Hello all and wow, what a cozy, warm and inviting forum you all have here. Cannot believe I did not learn about this sooner!
I am the proud mommy of two wonderful kitties: Penelope (age 4) and Maverick (age 1 1/2). "Nellers" is my username as for some reason, this is my husband's nickname for Miss Penelope. She is quite the princess, was on her own as a solo cat for a few years, but has welcomed her brother, Maverick, into our home with loving paws!
Here is a picture of the two babies: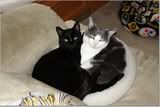 Looking forward to getting to know many of you better here in this happy little feline world!