Hi every one, My name is Colleen and I found this site about a week ago.
I hate to start off on a sad note but I guess it is kind of important to tell how we came about getting our new kitten which is named squirt.
I have 3 dogs, well I guess you wouldn't call them dogs there pugs, if you all know pugs there not just dogs they way more then that. Anyways, I have been involved with pug rescue now for over a year. On thanksgiving I took in to rescue pugs, they were used as breeding stock and kept in a garage there whole lives. Missy and Joey are there names. One day my mother had called me and told me that my step dad had found a kitten by his deer stand. I went to look at it and feel in love. I had wanted a kitten for a long time but my husband kept telling me no we have enough animals, and well he is just not a cat person. So anyways I went and picked up this adorable kitten from my mom I was going to bring it to a no kill shelter but after one night my husband said I could keep it, she was just a doll. At the time we had my 3 pugs and 2 foster pugs here. A week after she came to live here one of my fosters Missy had went to her forever home, but we still had Joey. One night my husband and I locked up all the dogs, well my 3 went in our bed room and Joey went in a plastic type kennel in the living room this kitten who we name kiki was left out in the living room (not confined). We went out to eat and back home we weren't gone more then an hour and we came home to find Joey chewed his way out of his kennel and the cat dead. Joey had killed the kitten it was no accident lets just say I hope it went peacefully.
After about an hour of me crying I called up the rescue coordinator and told her to get that dog out of my house and now! It was gone with in an hour. And lets just say I do not do rescue work any more and will never help that rescue out again, they totally hurt me when I was down so low. They swept it all under the rug. He is still up for adoption on there web site it says he has to go to a home with no cats. Thats just great, what about a baby or puppy or what ever he can hurt them too. But anyways enough about that.
About a week later my husband and I went to the shelter just to look, wanted a long haired kitten, and I didn't want a black cat, nothing against the short haired and black cats its just what I wanted. Well we walked in the shelter and all the kittens were black, close to 20 of them too. We ended up with a medium haired gray (almost black
) kitten. His name is Squirt, we love him to pieces he had just turned 8 weeks old when we adopted him he is 10 weeks old now. He is a little ball of energy! It took a few days for him to get along with the dogs, but everything has settle down and the love each other now. And not to worry I am super extra careful now and they are never left unsupervised EVER!
Anyways here is a picture of Squirt, in the pug pile, with our pugs, Buck, Jill, and Gabby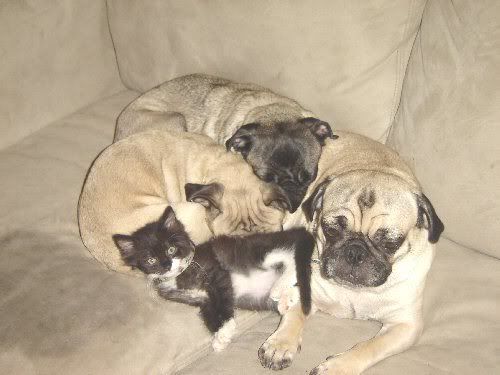 And here is a picture of kiki playing with one of my pugs tails, she is at the rainbow bridge now playing peacefully.