Roper...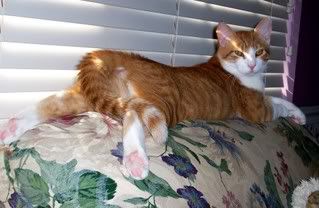 I think I have a teenager and he is only 8 months old!! He is just amazing.....
My precious adorable sweet little kitten of an angle has become a.....rebelious monster who talks back (literally with Meooows every second) when he fails to get or go where he wants to! He must be downstairs unless supervised upstairs. I am always downstairs (We have a 2-story house). He has everything down here.
Litter
box...food/water....bed....toys...his
expensive cat play tree he hardly touches. I have a baby gate up and he is constantly pawing at it...meowing....trying to get upstairs. Theres nothing exciting up there anyhow! I say "Roper stop...Roper....
Meow
! NO Roper....Roper Eh! Roper
Mieieieie
Rooppeerr...Noooo...
Mewwww
Come here.....
Meeooow
Mew
Meow?
."
He also has gotten this devilish gleam in his eyes nowadays! I dont know how but he sure did.
The only ounce of cutie roper I get now is in the mornings when he comes to wake me up. He runs, jumps up on my bed...meows and licks me. And when I come home..he rubs up against me. Then off he goes to destroy everything in sight!
Some times it gets really bad. When he gets P.O'd off he will even hiss at me...naudy naudy
Then off he goes to our 12 year old cat Simba....he proceeds to aggravate and then dominate the old one.
I'm guessing this is the adolesence period if cats have one? Around 8 months? He must be learning what he can and cant do and seeing who he can push around and also if he can get what he wants by doing it. Ahh cant I just have my little 1 pounder I found at the Gas Station back?
LOL Those were good times. When he actually appreciated what I did for him! Hes spoiled and he knows it. He always gets a new toy everytime I go out shopping and I spent 75 dollars on him for Xmas. Hes loved...unconditionally. Even if he is a little tyrant!
So what comes next after this stage?