Since Mojo's eye has cleared up, we decided to try the screen door as the next phase of introductions. And we were amazed at how well it went! Within an hour or so, Trent was there calling for Mojo to come see him, even though he was a bit wary when she rambunctiously ran up to him.
Well, Mojo being a kitten, she managed to slip out of the door before we were really ready to move to face to face intros, but apparently she knew what she was doing.
She came nose to nose with both Ginger and Trent on different occassions, and there wasn't any hostility from any of them!
I was amazed!
Well, we did corral Mojo back into her room with the screen door up, but she and Ginger decided they should play anyway.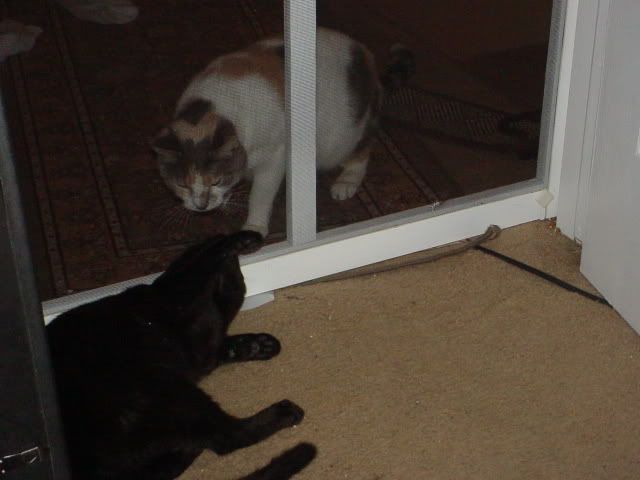 So, we figured that we would try more face to face, supervised interaction. It didn't take long before Ginger and Mojo were playing with the same toy with us!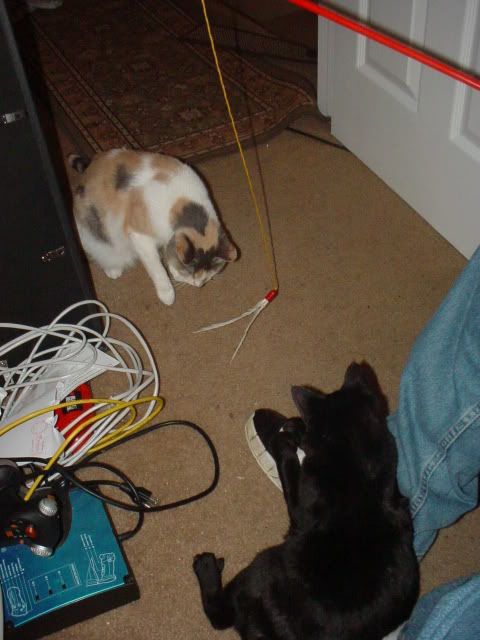 Then Trent decided he better come see what was going on too. (He's hanging back a little bit by the door.)
So, Mojo has been out with us most of the day. Even Ophelia has been reacting really well to her. She's followed Mojo around a sniffed her, and has growled and hissed a couple of times, but seems OK with her overall.
Mojo has been THRILLED with having the whole house to run around in, and run around she has! She's been a very busy kitten today, which has made for a very tired little baby.