I received my SS present today and I wanted to share my pictures! I haven't figured out my SS but I want to say Thank YOU! So much!!! I love the stockings and as soon as I hang them I will post a picture!
Each stocking had a foam ball, a ziplock bag with a catnip toy and kitty treats!! I also had sample packs of Wellbeloved! Man I have to try to get that in the US.
Everyone had to check out the nice smelling package!
Takoda even had to stick his head in the bag!
Than Takoda and Mia decided it was a good time to fight about it!!! Sampson sneaks up during the fight to take away the prize!
Each stocking was handmade!
With their names and filled for each kitty!
Simon didn't care who's stocking he had, he just wanted the smelly stuff in the ziplock bag!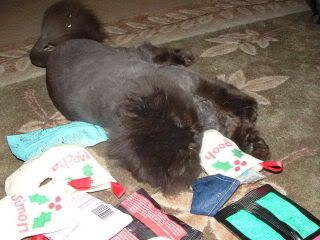 Mia was totally smashed with her little pink catnip behind her head!
She is so in love with her SS!
Tigger came to see just what the fuss was all about!
Again Thank You so MUCH!! Even if this was the only gift I received it was perfect!!! Now I'm off to decide if I should open mine!!