The location of the dogs' room--right on the route from the offices and vet clinic to the cat wings--means they get plenty of attention from anyone who happens by. They may be outnumbered by cats 200 to 1, but since they had nowhere else to go when they were taken in by the shelter, they do have at least one thing in common with their feline companions. My housemate pointed out to me how important this room is, whether or not the dogs care about its appearance, because it is right in the path of any visitors who come to adopt cats.
My work this week was to clean up the dogs' room; and that's hard to do because their outdoor run has a dirt floor, and they're always tracking mud in. Then the mud dries, and the dust blows into all corners of the room; and, of course, from two long-haired dogs comes a lot of fur. Technically, no one at all is assigned to the dog room; so one of the shelter owners usually cleans it--they're very, very busy, though; so it's usually a cursory cleaning. If, as has happened over the last couple of weeks, I'm a surplus volunteer, I'll assign myself to the dogs' room. The dogs may not care that there are muddy tracks on the tile; but visitors' first impressions are (as my housemate pointed out to me) very important.
Quote: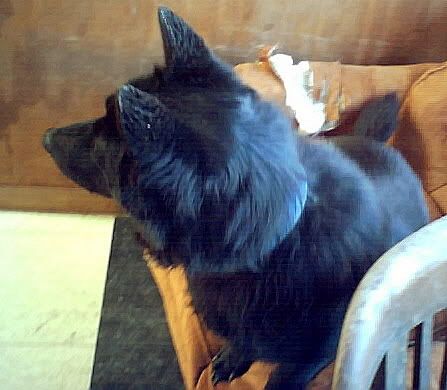 This is Sadie, whom my housemate, when she met her, described as very "fox-like"--a dog who knows she's attractive! The ripped chair is the fault of the room's other inhabitant; Sadie is by far the quieter of the two.
Quote: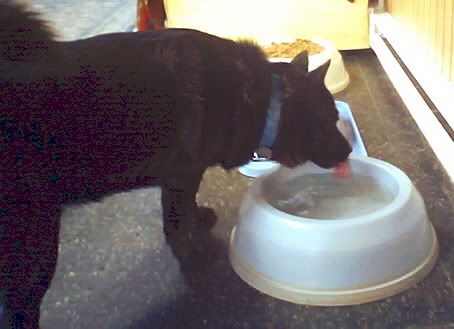 Sadie gets a drink. These are simply the biggest dog bowls I've ever seen--you'd think the dogs were St. Bernards! There's another water bowl and a food bowl in the background. Hehe... got your tongue, Sadie!
Quote:
Cooper is a Golden Retriever, about two years old. He follows the nearest human around, always needing to be in contact with someone (you can see that in this picture; I'm holding him in place so that I can get a decent shot). He has a problem with chewing furniture--every piece of furniture in the dog room has at least one bite taken out of it; and recently an armchair, literally skeletonized by this enthusiastic chewer, was carted out and dumped. To keep the furniture from looking too bad, it is covered by blankets.
Quote:
Here, Cooper and Sadie watch for their owners through their window.
I thought at first that Cooper might have some sort of separation anxiety thing going on; but then my housemate, whose family owns a Golden Retriever, told me that the breed was naturally extremely social and energetic; and that Cooper, despite a steady stream of people through his room, might simply be bored.