This week's kitty census is from Room H, where there are amazingly only two pairs of cats, out of fifteen total cats, which I can't tell apart. They're all beautiful; I want to take them all home (especially Elsie); and I can't take any of them home. *sigh*
The presence of a nice color variety and detailed descriptions written on the white board by some conscientious volunteer mean I may, if I figure out those last two pairs of cats, actually be able to know all the cats in a single room on sight! I've seen long-term volunteers look into a random room and just say hi to a bunch of cats by name... me being able to do that with just one room might be nice.
Quote: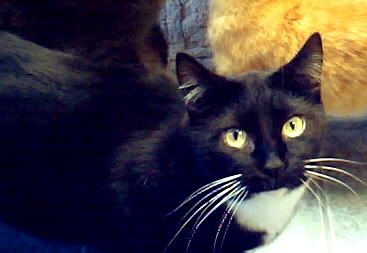 Ralph greets me at the door of the room.
Quote: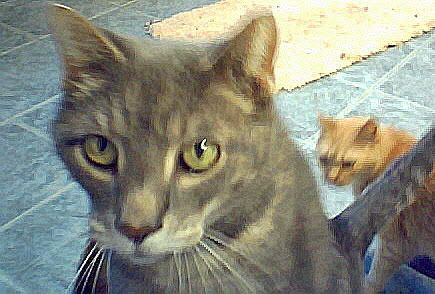 Aptly-named Puff, a gray tiger with lovely soft fur, has his front paws up on my knee in this picture. He's the first to greet anyone who enters his room, and loves human contact. His favorite petting spot is just behind the ears and down the sides of the head.
Quote:
The poor quality of this photo (my apologies) hides a truly beautiful tortie. Momma Cressel is shy enough to hide under the chairs most of the time; but she doesn't mind a bit of contact. In a quiet environment, she might warm up to human friendship.
Quote:
Marcia's plush fur and quiet demeanor tells me she is probably in her teens. She sits in her chair, snoozing or watching the other cats quietly, and doesn't mind occasional greetings by a friendly human. She looks annoyed in this picture--that's because I've been wiggling my fingers above her head to try to get her too look at the camera!
Quote: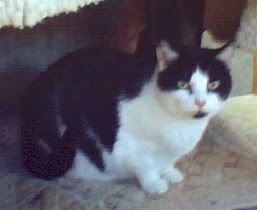 Kay's a female, but she looks an awful lot like she has a goatee! She's one of the shy ones.
Quote: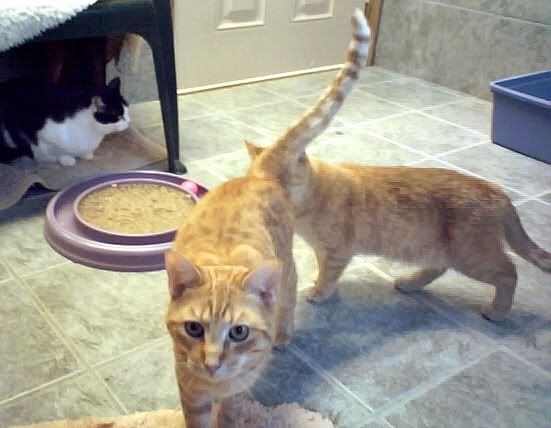 These are two of the cats I can't tell apart--Francis and Russel, both orange tigers. The cat in the foreground, who's looking straight at the camera, has the more well-defined stripes, and is also the more friendly and playful, and probably younger, of the two. He and I had quite a bit of fun with a jingle ball. (That's Kay in the background.)
Here are those two cats again separately...
Quote: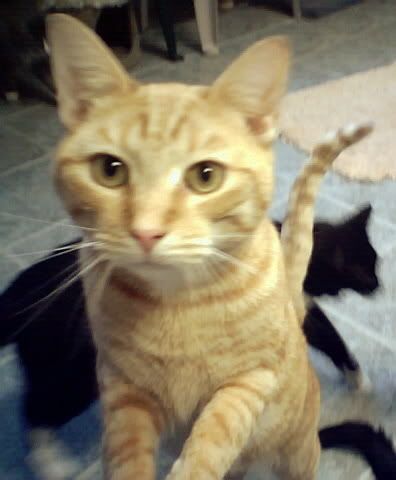 Cat one...
Quote:
...
and cat two.
Quote:
Big Ed's crimped ear makes him the most distinctive cat in Room H. He's a confident, demanding boy, reaching a paw out to a nearby volunteer from his post at the top of the cat tree. He loves to have his head scratched, but hates to be picked up. This picture shows him stepping forward for attention, as usual!
Quote: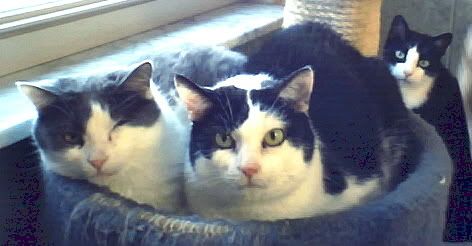 From left to right: Gracie, Elsie, and Frisky. Gracie has only one eye, which makes her look as though she's always winking. She hates having her head touched, but she purrs up a storm whenever you pet her back--I bet she had her head touched a lot when she lost her eye, and it's bad memories for her. Elsie is an all-around friendly cat who actually stood and bumped my nose with hers when I leaned down to see her! Frisky is a little more shy and prefers not to be touched.
Quote: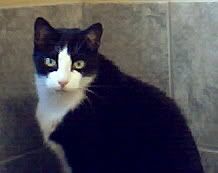 Here's a really good picture of Frisky... look at those eyes, and the beautifully symmetrical black mask!