(Click on the thumbnails to see bigger images)
Spot: (Yes, he's plump, but he's on a diet.)
Spot was adopted from a local Humane Society. He and his siblings had been found in a box in a Food Lion parking lot. Spot was at the shelter for over 8 months (Thank God it was a no-kill). He is the greatest cat. I love him so much. He is just amazing! Spottie is almost 7 now. I can't believe he is already "middle aged". I hope to share many many more years with him.
Eddie: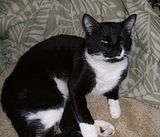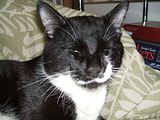 Eddie - Wow, what can I say about Eddie? A neighbor moved out and abandoned Eddie about 6 months ago. He was always an outdoor cat and was never given any attention or affection. Now he has finally adjusted to someone petting him, but he is still pretty aloof. He does not seek affection, he is not a cuddler, he does not come when he is called....he tolerates me, and I tolerate him.
He is a most cranky little beast, but I love him in my own special way.
Sam:
Day 1 - near death:
Day 2 - all medicated and feeling a tad better:
And now -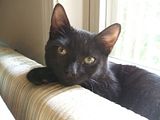 Sam's story -
One day I got a call at work. A friend had found a kitten near death wandering dangerously close to a busy highway. His mother had just been picked up by animal control along with his siblings. My friend asked if I could take him in, he was in bad shape. I said yes, and though I have seen some bad things, I was in no way prepared for this guy. His eyes were matted shut with infection, his belly was the size of a baseball (full of parasites), he was 3weeks old at best, he was sneezy, sniffly and emaciated. His rear legs did not function properly and were deformed. Yet, he purred. I was sold.
Through a lot of bottle feeding, medicating, and TLC, Sam not only survived, but thrived. He is now the "big man" of the house and loves it.
And last but not least, is our nameless stray kitty. We are hoping she is just a lost pet, but as the days pass by, we have given up hope that anyone will call for her.
I hope you all have enjoyed meeting my kitties.