***stoli - luxor***
Endless Whimsy

offline
4,352 Posts. Joined 2/2006
Location: Maine
Learning a lot from the boys

offline
11,068 Posts. Joined 5/2006
Location: On the 12th floor
Awwww... they are SO cute together!
offline
18,426 Posts. Joined 7/2006
Location: In a state of misery w/o my Bella
Beautiful pictures
Look at them Together AWWWW!!!
Babygirl you will always be missed.

offline
17,439 Posts. Joined 6/2006
Location: Birmingham
Everyone of those pics are just beautiful. They look so precious together. Look at Luxor kissing Stoli, that is so sweet!
offline
1,469 Posts. Joined 7/2006
Location: Pacific NW
offline
21,077 Posts. Joined 7/2006
Location: Winnipeg, Manitoba, Canada
What sweethearts! She looks a bit hung over in the last picture (wine bottle in the background, LOL)
offline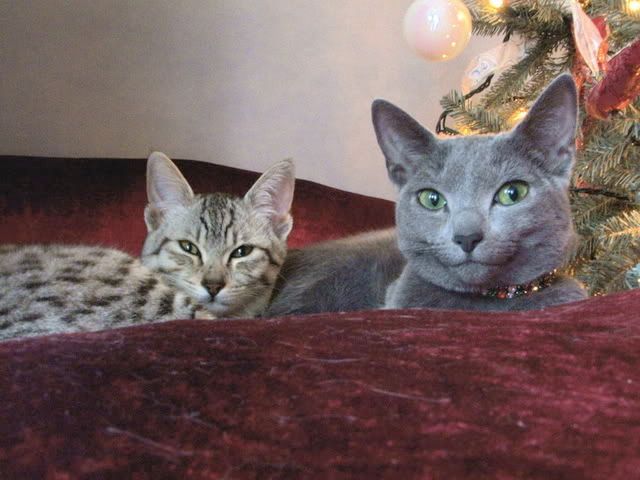 Stoli is smiling..... hahahhaha, nice picture
Foster Meowmy Extrodinare

offline
22,224 Posts. Joined 4/2005
Location: USA
they are sooooo prescious in those pictures!!!!
Cat Mommy

offline
5,757 Posts. Joined 4/2006
Location: Maryland
Beautiful!
Endless Whimsy

offline
4,352 Posts. Joined 2/2006
Location: Maine
they are getting along very well. . .luxor is a little devil though. he won't let anyone cut his claws. stoli's my baby
Blue Spirit

offline
5,018 Posts. Joined 8/2002
Location: Where emerald eyes are smiling
Maybe
once her health issues are figured out I may considerate it again.