hello everyone
offline
6 Posts. Joined 12/2006
Location: Virginia
HELLO EVERYBODY I'M NEW HERE.

ANNETTE
offline
34 Posts. Joined 12/2006
Location: Chicago area
welcome annette !!!
I'm a newbie too , it's a great forum !!! Check out the Picture section..oh my soooooooooooooooooooooooooooo
cute !!!!
Nice 2 have u
offline
25 Posts. Joined 12/2006
Location: Louisiana
I am new too and welcome!
I'm watching you ! !

offline
7,602 Posts. Joined 5/2006
Location: Brits Abroad - In Spain
Hello and a warm welcome from Spain and my kitty-crew
Its great here, with lots to do and see............be careful you´ll soon become addicted
Do tell us some more about yourself and your furries
once you get settled maybe you could post some photos
we just love photos here.
Well enjoy the forums !!
Gardens of Time fan

offline
12,065 Posts. Joined 10/2003
Location: W/ the best cats
offline
2,865 Posts. Joined 11/2006
Location: Watching the robins sing!
Hi and welcome! I am also new - in fact I am so new that I don't know how to post pictures of my "kids" yet! Welcome!
Cloud Watcher

offline
8,884 Posts. Joined 12/2004
Location: At the kitty's beck and call
Hi there Annette
we're so happy to welcome you to TCS. I'm sure you'll enjoy your stay with us - we're one great big family and you'll find loads of friends here. If I can help at all while you're finding your way around TCS just click on my username and send me a Personal Message - I'll do what I can to answer your questions
Do you have any kitties?
"Meow", means NOW!

offline
36,897 Posts. Joined 3/2004
Location: The "Dark Side of the Moon"
Hi and welcome to TCS!!!
See you on the forums!
GO PACKERS!!!

offline
14,518 Posts. Joined 12/2004
Welcome
offline
6,995 Posts. Joined 8/2006
Location: The North Pole!
Curiouser and curiouser...

offline
16,356 Posts. Joined 8/2005
Location: in the land of poutine and ice
Hi Annette,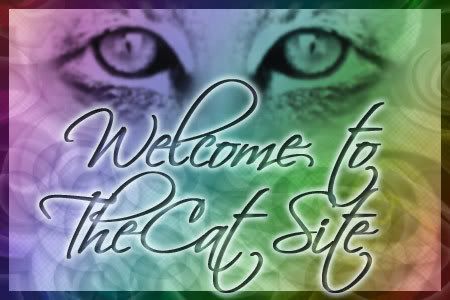 Mommy to Midori and Brody (the DOG)

offline
5,525 Posts. Joined 11/2003
Location: Sunny Florida
Welcome to the site, Annette!
offline
4,781 Posts. Joined 9/2006
Location: Glendale, California
Welcome Annette:
Glad you found TheCatSite and looking forward to hearing about/seeing pix of your CAT(s)!