Hello everyone!
My husband and I adopted a kitten from our local shelter two weeks ago, and after stumbling upon this site, I felt like it would be a great experience to join - not to mention, it seems to make a great resource for first time kitten parents!
Our Smokey was 11 weeks old when we adopted him (13 weeks or so now), and is a gray Domestic Shorthair mix. Cuddly as can be - he'd rather snuggle on one of our laps than play with his toys any day. He's an absolute blessing... and we spoil him to bits already.
Anyway, just wanted to make an introduction. Oh! These forums have helped already, too - we
were
feeding Smokey "Meow Mix: Lil' Nibbles" for about a week or so, but then noticed a thread here on how horrible it is in comparison to other foods. Now we're introducing him to Nutro's Indoor Kitten formula. Hopefully he'll enjoy that, too.
Here's a recent picture of our lil' Smokey: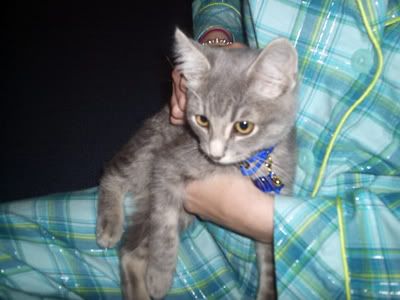 So yes, I think this site will quickly become one of our favorites. Thank you all for reading my rambling, and have a lovely day!