Basic info: Tenth Life is a cat shelter I volunteer at every week. They're a no-kill place with about 400 cats, and the cats are gorgeous!!
This week, I had an interesting experience in which I ended up accidentally locking both my bike and my house--while the keys were out of reach--and as a result, biked 10 miles and walked five. If you want the sorry details,
here's
my blog page on the occurrence.
But it's not quite cat-related, so I'm not going to actually post it here. Besides, it would sound like complaining (though I'm actually quite proud I made it through with only sore feet).
This week:
The Ladies & Gentlemen of Room D!
Quote:
Lucille watches me cautiously from her hidey-hole. She doesn't seek out attention; but she's calm enough to show herself.
Quote:
Mary, the other Room B calico. She must be top cat--she always has the highest perch on the cat tree. Like Lucille, she's calm but not outgoing.
Quote: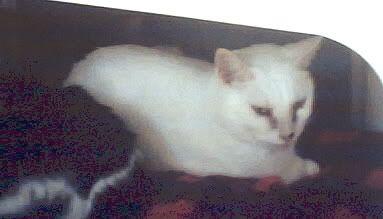 Jack is actually not completely white--there's a spot of black on his nose; and his tail is black. It looks as though he sat in black paint! Jack is a casually friendly sort, coming out after having heard the others purr for a while and sure it's OK.
Quote: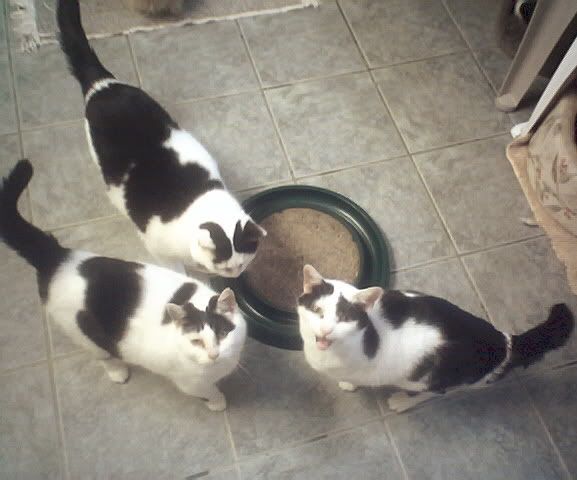 Three of the friendliest of Room D's SIX black and white cats, demanding attention! Their names? Well, all I can tell you is that they're three out of this list: Barnie, Lady Cressel, Lucy, Robert Greene, George D., and William. The one on the right, with the long face, is a real lovebug... he comes to greet you, and stays until you leave, no matter how long you stay! My lap was filled mostly with these three cats, with others butting in occasionally to get their share.
Quote:
...And here they are again!
Quote: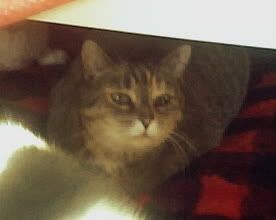 Matilda has been steadily warming up to me. At the beginning, she walked cautiously around the fringes of the happy, purring group that usually surrounds me; then, she allowed herself to be touched. Now she's headbutting me and arching into my hand--I can only surmise she's one of those cats that takes a while to get used to new people. It still takes her a while of listening to purrs to make sure she's safe, though.
Quote:
Owen. Not much to say about him--moderately friendly, moderately playful. Just your basic cute cat. If I could've gotten a decent picture of him, you would've seen just how stunning those stripes really are--they look like the mottled shadows of trees on the forest floor. Bet the mice don't know what's coming!
Quote:
I hate the way black cats don't show up properly on film, don't you? In any case, this is Little Bear. I think he looks too skinny to be a bear, because bears are supposed to be roly-poly. But, anyway, you'll just have to trust me that he's much cuter in person--he just looks like a blob in this picture.
Quote:
Too bad this fellow didn't let me take a better picture of him--he's so pretty, but he's shy. I'll refer you to the abovementioned list of black-and-whites... Maybe I should start randomly assigning names?
Quote:
And another black-and-white. This one spent time under the chair; he shrank back when I sat down next to the chair to let the cats come to me, but relaxed when he saw I wasn't going for him. He spent the rest of the time watching me curiously.