I am definately keeping this one, he is so sweet, well they all are but i can only keep one
.I have found good homes for the other two. Can any one suggest any names for him.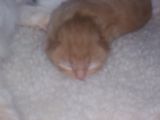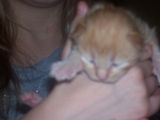 Also i know someone who really really REALLY wants the little white one. Her husband wants to give her him as a christmas pressie but he will be only 7 1/2 week old. I wanted to keep them until they were 10 wk . I think it will be too early. What do you reckon?