I took Sebastian to the vet today because he is supposed to have anestheia on Friday to evaluate his broken arm and I am uncomfortable with the anethesia. My regular vet feels that he is at risk of sudden death syndrome. His heart is not pumping well and his BP is low. I just want to cry. He was a fairly healthy boy 6 weeks ago and how he is down to 6 pounds 9 ounces. She thinks that he may have cancer and he needs an ultrasound of his abdomen and if that is negative of his chest. I am so lost. I have spent over $3000 already. I will do everything for my boy but I am out of money. I can not think right now. I just want it to all be better. I can not lose my lil boy.
I have been force feeding him for almost 2 weeks now and he is just getting sicker. The blood tests will be back tomorrow. I will just feed him and make him comfortable. That is all that I can do today.
For those who need to be caught up: My lil boy broke his arm on 10/10. He was fine but with a broken arm. Then he started a rapid decline. He stopped eating, so I am force feeding him. His arm culture came back postive for strep and he developed a cold. He has been on baytril, clavamox and now he is on zythromycin (sp). Blood work revealed that he has an infection (where they do not know) his protein was low and his potassium was low. He is on postassum suppliments. He keeps losing weight despite the force feeding.
Thank you all for your love and support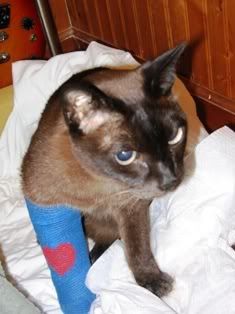 This picture was taken 10-12-06. He looks nothing like this now.