The Tenth Life is a no-kill cat shelter in Ohio. If you are interested in adopting a cat, volunteering, or donating cat stuff. The address is kept secret, naturally, because otherwise people will dump cats there, and they won't be able to care for them all.
These are some of the cats; they are all up for adoption. The pictures really do not do them justice because I'm not a very good photographer, and my digital camera is a cheap one. So imagine these felines about ten times as splendid as they look in these pictures, and you'll have it about right...
I call this room "the white cat room" because there are several white cats in it, and I can't tell them apart yet! Many of the cats here are still very shy, and some downright feral; and though they tolerate human presence, most of the cats don't actually seek it out. They're very clean, neat animals--I have never had to wipe up a puddle, and I spill more litter scooping their boxes than they do all day. There are a few cats who like human contact, though, and those are the ones I managed to photograph close up.
Quote: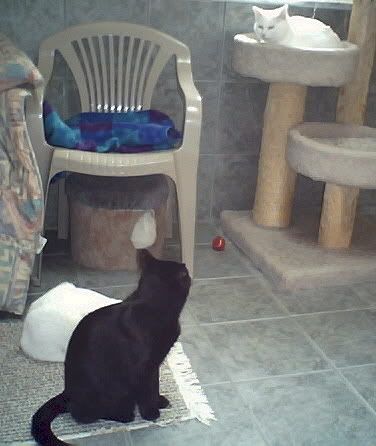 My best guess at the names of these two white cats (from their descriptions on the room roster) would be Heidi, on the cat tree, and Chuck, on the floor. The black cat is Dugan. Chuck and Dugan are casual socializers who came by for a pat when I sat down on the floor, and then went about their business. Heidi came down from the cat tree to sniff my backpack, but wasn't very demonstrative. There's another white cat in the hidey-hole under that chair, but it didn't come out, so I figure it's probably shy.
Quote:
This is Charlie. He's one of the two most friendly cats in Room B; he headbutts and purrs with the best of them! Charlie also loves to chase a string... actually, he'll chase shoelaces, backpack straps, headphone cords (I put a stop to that right quick!), and anything else he sees moving. It's amazing to see him "stalk" something--he stays so very still; then, wham! got it!
Quote: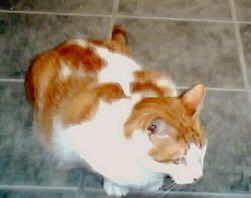 This is Tiny Tim. I'm not sure how he got that name, since he's a normal-sized cat. Maybe he was the runt of his litter? In any case, he's the other friendly Room B cat; and he likes to play with string, too (though he's not near as enthusiastic as Charlie). His breathing is a little noisy and I think he may have some sort of allergy.