I brought some new toys for the babies when they get a bit older .
Kink and Puss had to make sure they were safe for the kittens to play with.
Altho i might have to buy some more cos' i don't think they will want to share them when the kits get older.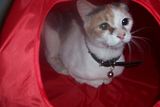 This one is Puss wishing this was one of her toys. My mice,Hudini and charlie ,in their racecar . when they run, it drives the car around the floor. like the critter balls for rats only a car. I got it for my rats but they just sleep in it.