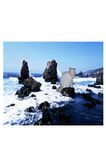 This is her watching the fish, luckily she didn't fall in.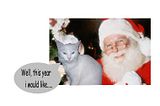 She went to see Santa, apparantly she wants a new scratching post, and some more toys for her kittens
U2 were there to see Santa too, she couldn't resist asking them for a photo with her. As you can see they were only too happy to.
Well that was Snowy's little adventure. Has any of your cuties had experiences like she has. ?
Sorry the pics arn't any bigger.