Since
Mirinae did it
I am too. LOL
I got engaged on Oct. 5th. It's funn how many similarities there are actually. I've had a place holder since mid-July except he didn't actually ask then. It was more of a pre-engagement ring to assure everyone he had every intention of proposing. The reason I got the place holder was because he was having a very hard time finding someone to make him the custom ring he designed for me. No one wanted to sell him a platinum band (he already had the stones) then turn around and melt it. Then when he finally did find someone and it came back finished it was a size too big. They had to completly re-do it but luckily it was the shop owners mistake and he hurried it through again.
So, on the afternoon of the 5th they called him to say it was ready. He drove out to get it and yeah, it was the right size and looked perfect. He came home from work (late cuz the ring was in a town 45 minutes away) and went upstairs to change as usual. I saw on the couch watching TV and crocheting. About 15 minutes later he calls down to me... "Honey, did you see this?!" At this point I thought one of the cats got sick on a bed or the toilet had leaked... something bad. "Babe, you really need to come look at this." Ok, I get up and walk upstairs. As soon as I round the corner at the top I see him kneeling in the hallway ring in hand. This is what I saw in the ring box...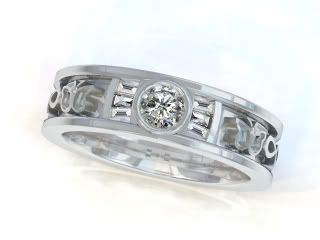 The band has a stamped pattern of two butterflies surrounding an infinity symbol. Now I understood why they couldn't have just resized the ring. You can see the pattern detail
here
. It caught me off gaurd too. I knew about the ring and he even told me when it came back the wrong size so if he'd done roses or a fancy resteraunt I would have known what he was up to.
There's also certain people we (ok... I) would feel obligated to invite so we're going to an island between Michigan's penensilus to get married. Mackinak Island. We're going to be married in the gazebo at Mission Pointe Resort. I just made the appointment today to go dress shopping which my niece/flower girl is so excited about because she's coming with.
I can't help bit grin (almost) every time I think about it. I love my ring and I look at it somewhere around every 3 minutes (about as often as a man thinks of sex!). The next week or so.. until we have the contract in w/ the resort... is going to be pretty high stress though. Everyone's worried about something and they are all telling me about it. Had my first pre-wedding min-break down yesterday because my mom either mis-understood something or blew it way out of proportion and said we may have to stay in town which I don't want to do for so many reasons. We got it all cleared up though. They say the tome between engagement and marriage are some of the most stressfull.
Of course, I could go on and on but I'll try to keep it to a minimum since I'm posting about this everywhere!