Let me introduce my critters!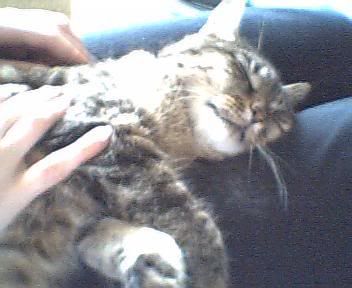 This is Monet. We think she's about a year old. My Boyfriend and I rescued her after we noticed her hanging around my workplace a lot. She was extremely clean and friendly but seemed to be living outside. I started getting worried when I saw her going up to people that were close to the road. He begged me to take her home, I really wanted to but I was worried that she had an owner.
We called all the pet rescue places and I left some notes around but decided we wouldn't take very long because I was so worried. I remember one night almost sick with concern over her. The next day I brought her home. That was about 3 months ago No one has ever tried to claim her. She's beautiful and calm and loves to make you feel good with her cuddles, that's why I called her Monet. She's my special girl.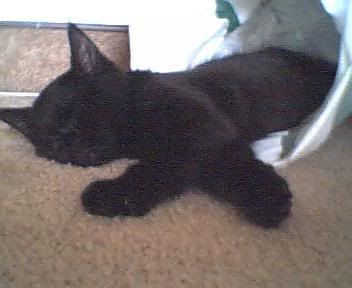 And this little rascal is Haiku. We got her about a week after we got Monet to keep each other company while we weren't here. She's about four months old now. The reason I wanted to join this site is because of her. She's the biggest comedian I've ever seen and the HUGEST baby! She sleeps right on my pillow every night. I just love her to absolute pieces.
I'm looking forward to telling you about my babies and getting to know your own through your pictures and stories.