So I'm making dinner & the kitts are running through the house like kitty nascar. And then it got quiet, and from in the kitchen I hear this little, "mew, mew, meow, meow" crying....so I look under the couch, behind the couch, in the hall closet, in the tub in the linen closet, and then I go into Jazzy's room & I hear it again "mew, mew" but it's quiet so I go back into the hall, and hear it again, behind me, so I turn around and this is what I find:
notice that this is the TOP of Jazzy's bedroom door, the door I pushed open to go into her room, and that's my hand trying to spot him in case he falls....and I always have my camera ready so I called for hubby to take a pic.
So then I watched him to see how he got up there.....(cause you know he was gonna just go right back to trying to get up there again
)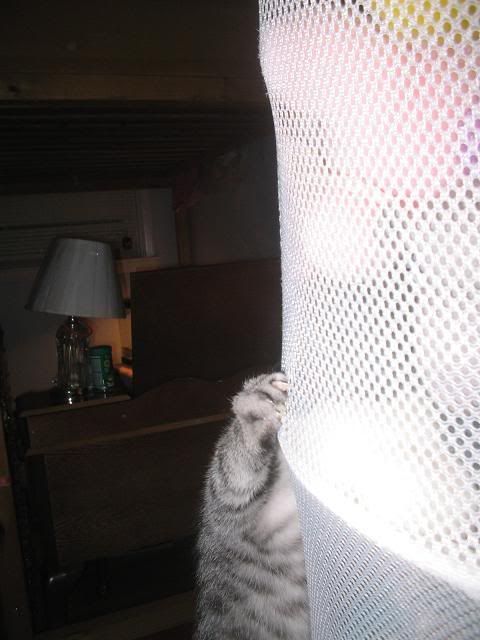 this is the ikea hanging thingy that Jazzy keeps her shoes in, it hangs on the back of her door....
"What Meowmy?! You know you love the bad boys!!!! Eat your heart out girlies!!!!"
(and as a mommy I must add, isn't he just the prettiest colors? he's silver like a wild rabbit....but his eyes are starting to turn greenish/yellowish, they used to be slate grey, like his fur....such a pretty baby boy!!!!)