This is me...Reecie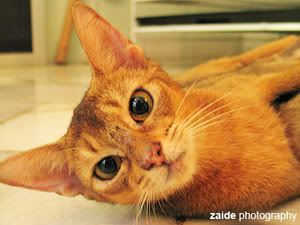 The news is that my nose and ears are now fully coated (yay, no more mosquitoes coz moewmy finally put up the mosquito netting!). At the Sept 17 show (where that young upstart BB overshadowed me!) I placed 6th in the finals, 3rd Best AB Ch and Best SH CH in one ring and 8th in the finals 2nd Best SH Ch in the other ring!
Actually, the real news is that I'M PREGNANT! My 2nd litter is due end November, early december...my hubby is of course CH Vicjapan Stephen of Masmera. Note: Moewmy still showed me coz she wasn't sure that the mating had taken but it did....
So wish me luck! Meowmy is very, very happpy but she only wants a litter smaller than 4 and I gave her 5 the last time (my first litter was born Dec 30, 2005).
I'll keep you posted of my progress in this thread is you want!!!!
Mew to you and have a good day!
Reecie